Most active stocks: Erste Group, OMV, voestalpine

Average monthly equity turnover stable from a 5-year perspective

Uptime improvements planned for Q2
Vienna Stock Exchange can look back on an eventful first quarter 2019. The SME segment "direct market plus" started with 8 companies, including 4 new listings. February began with Europe's first IPO in 2019: Marinomed Biotech AG floated in Vienna's prime market segment. The Vienna Stock Exchange's equity market generated a turnover of EUR 16.01 billion in the first quarter, a decline of 16.3% compared to the previous year (Q1 2018: EUR 19.13 billion). In January and February, European stock exchanges recorded declines in turnover of between 20 and 40%. At EUR 5.34 billion, the average monthly trading volume in Vienna is stable above the five-year average of EUR 5 billion. The international segment global market is bucking the trend and has almost doubled its trading volume since the previous year.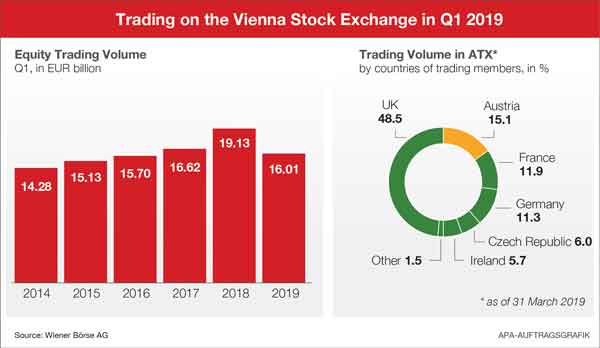 "BREXIT is currently dampening trading volumes throughout Europe," explains Christoph Boschan, CEO of Vienna Stock Exchange. "In the run-up to BREXIT, we ensured that our customers from Great Britain can continue to trade smoothly on the Vienna Stock Exchange. Politically, the former 'hard currency countries' among the EU-27 will lack UK's market-oriented voice."
In 2018, around 60% of the equity turnover on Vienna Stock Exchange came from UK trading participants. This share is shifting already. British exchange members will be able to trade from continental European offices in Amsterdam, Frankfurt, Dublin, Madrid and Paris.
Focus on trading quality: state-of-the-art infrastructure and increased uptime
In the first quarter, Vienna Stock Exchange completed the upgrade of its trading system to Xetra® T7. Also bonds, warrants and certificates can now be traded on Europe's technologically most advanced platform. In the coming quarter, further innovations are planned to increase system availability and trading quality. In order to take account of the rising trading volume in closing auctions, the closing auction in ATX stocks will be extended by two minutes from 2 May onwards. On 30 May (Ascension Day), trading on the Vienna Stock Exchange will also be possible for the first time on an Austrian public holiday.
"Our technical infrastructure is cutting edge. More service and more availability are the credo of Vienna Stock Exchange. Our framework and technology meet the highest international standards. Around 90 market participants rely on our highest trading quality," says Ludwig Nießen, COO & CTO of Vienna Stock Exchange.
Statistics: ATX, most traded shares, top performer
Since the beginning of the year, the ATX has gained 10.50% (+10.77% incl. dividends). The Austrian benchmark index stood at 3,034.04 points on 29 March 2019 (Year-high on 21 March 2019: 3,080.52 points, year-low on 2 January 2019: 2,770.85 points).
The most active Austrian stocks in the first quarter were Erste Group Bank AG with a turnover of EUR 3.44 billion, ahead of OMV AG (EUR 1.93 billion) and voestalpine AG (EUR 1.92 billion). Raiffeisen Bank International AG (EUR 1.66 billion) and Verbund AG (EUR 1.27 billion) ranked fourth and fifth.
With a plus of 30.52% since the beginning of the year, Semperit AG was the top performer on the prime market, followed by Schoeller-Bleckmann AG (+29.03%) and OMV AG (+26.46%). The market capitalisation of all domestic companies listed on the Vienna Stock Exchange was EUR 112.18 billion as of 29 March 2019.
Details on the individual market segments, indices and securities are available on our web statisticspage. A comparison of European stock exchanges is available in the statistics published by the Federation of European Securities Exchanges (FESE).