Market leadership maintained, trading members network expanded

Trading turnover rises to around 70 billion euros, an increase of four billion euros or 6%

Vienna Stock Exchange starts 2019 with "direct market plus"

Last trading day 2018: 28 December, closing auction at 14:15
The Vienna Stock Exchange looks back on an eventful year 2018. In its main field of business, equity trading, the Austrian national stock exchange is asserting itself with the highest market quality and is recording growth of four billion euros in trading volume. This corresponds to an increase of six percent compared to the previous year, despite the difficult conditions in a market with heavy regulatory burdens. For domestic investors, the Vienna Stock Exchange is once again expanding its investment universe to include international blue chips.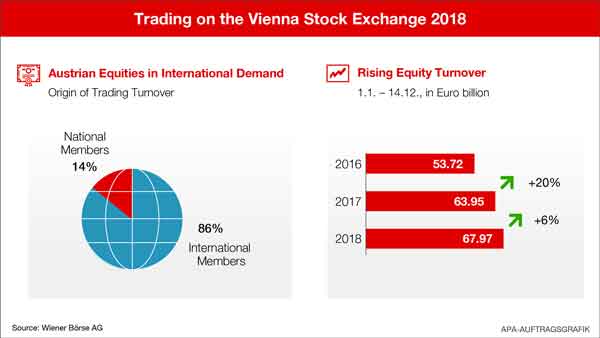 "As trading hub, Vienna Stock Exchange is globally known for the best trading quality and an international network. Among the European stock exchanges, we rank eleventh in the year-on-year turnover ranking and tenth in November," says Christoph Boschan, CEO of Vienna Stock Exchange and its holding company. "We offer Austrian leading companies the best platform to reach international investors. For Austrian investors, we offer international blue chips as well as domestic industry leaders. This combination works successfully, as can be seen from the rising turnover in a challenging market environment."
Internationally filled trading books - Share turnover almost doubled since 2012
Share turnover rose in the course of the year to EUR 67.97 billion as of 14 December 2018 (14 December 2017: EUR 63.95 billion). At 86%, the lion's share came from international exchange members. On important international dates, such as triple witching days, the trading volume triples. On the strongest trading day in 2018, 16 March, a volume of more than 1 billion was traded. In 2018, Morgan Stanley accounted for 12.53% of stock exchange turnover in Vienna. The strongest trading participants also include Merrill Lynch (8.22%), J.P. Morgan (7.84%), Société Générale (6.67%) and Raiffeisen Centrobank (6.21%). The buyers of Austrian shares are mainly large investors from the USA, Austria, Great Britain, Norway and France.
Offer expanded: Price list extended
In 2017 and 2018, more than 570 international blue chips from 24 countries were brought to the global market segment in Vienna. There are more shares tradable on the Vienna Stock Exchange than ever before. Domestic investors can choose from a total of 785 equities (e.g. shares or ETFs), including 711 international and 74 domestic stocks. Large IPOs, such as the Japanese SoftBankCorp yesterday, are regularly added. The international segment is well received and became the second strongest stock market segment after the prime market.
Over 670 new bond listings
Stock market listings are also an important quality criterion in the bond sector. As a premium marketplace, the Vienna Stock Exchange is recording an increased inflow of European bond issuers. As of 14 December, the Vienna Stock Exchange lists over 3,651 bonds, a new high (December 2017: 3,594). Of the more than 670 new listings, more than a third originated from international issuers.
Outlook 2019: Easy stock market entry for domestic SMEs and young companies
The Vienna Stock Exchange will start on 21 January 2019 with simplified market segmentation. The new segment "direct market plus" will be the new home for SMEs seeking a simple and quick initial public offering. Several Austrian companies are working intensively towards ringing the opening bell next year. The experts within our "direct network" are supporting with capital and advice.
Another novelty in the coming year will be stock exchange trading on four selected holidays: On Ascension Day (30 May 2019), Corpus Christi (20 June 2019), Assumption Day (15 August 2019) and All Saints' Day (1 November 2019) regular trading will be possible. Vienna Stock Exchange is thus bringing its opening hours in line with European standards.
Ludwig Nießen, COO & CTO says "In 2019, Wiener Börse will complete the switch to one of the most modern trading systems available for all asset classes. Our infrastructure scores with seamless, stable operations and a strong European network of trading participants. In the run-up to BREXIT and with the increasing regulatory requirements, we maintain particularly close contact and offer support. Our many years of experience also pay off in product development. We were able to quadruple the number of customers for our new TTR II reporting service."
Private investors should always think long-term when it comes to equities
In line with European markets, the ATX, the leading domestic index, fell by 17.33% (-14.98% including dividends) as of 19 December 2018. This year, geopolitical and monetary uncertainties weighed on the majority of established equities, with only a few individual stocks being able to escape these concerns. Since its foundation in 1991, the leading Austrian index, shows an annual return of 7%. Christoph Boschan is convinced that investors who believe in long-term economic growth are best off with equities: "Austrian stocks are a great addition to any diversified portfolio. Investing is a marathon and not a sprint. With a long-term strategy, investors should make themselves independent of the selectively tense market environment."
The market capitalization of domestic companies listed on the Vienna Stock Exchange remained stable at EUR 107.31 billion as of 14 December 2018, above the EUR 100 billion mark. Trading will continue this year until 28 December. On this day, an early closing auction at 14:15 ends the trading year.