"cryptomania" and "Brexit" were the other two contenders

Stock market impacted by punitive tariffs disruptions in 2018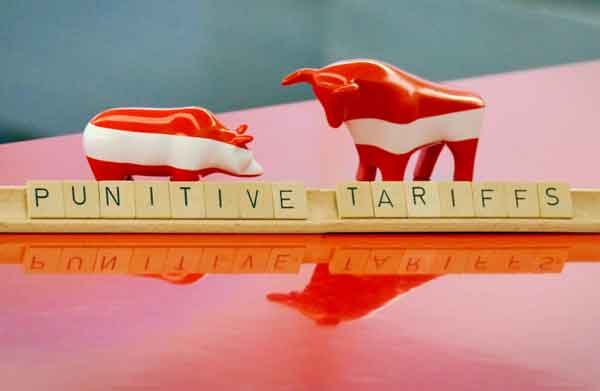 The Austrian financial community selected "punitive tariffs" (as in those imposed by US President Trump) as stock market taboo word of the year. Around 1,000 industry representatives were invited by the Vienna Stock Exchange via associations such as the Austrian Association for Financial Analysis and Asset Management (ÖVFA), the Association of Austrian Investment Fund Management Companies (VÖIG) and Cercle Investor Relations Austria (C.I.R.A.) to choose the taboo word that was particularly influential in the industry in 2018.
The punitive tariffs already imposed or used as a threat by the US in its conflicts with Iran and China disrupted global trade in 2018. They also had an impact on stock markets, influencing winners and losers among stocks, and increasing uncertainty among investors. "Punitive tariffs are a massive intervention in the system, as they disrupt entire value chains. Companies no longer have the security and predictability they need for planning their business and therefore postpone investments. This uncertainty is poison for the economy," says Christoph Boschan, Chairman of the Management Board of Vienna Stock Exchange and its holding company. "Financial markets have traditionally been some of the first to react to these mood swings."
Second and third place go to cryptomania and Brexit
In second place in this year's survey was "cryptomania", a term that sounds exciting and rather cryptic. Over 2.000 crypto currencies currently vie for investors' favour. At the same time, many players in the crypto industry complain about the persisting lack of regulation. The term "Brexit" landed in 3rd place in 2018. In approximately 100 days' time Great Britain plans to withdraw from the European Union. What happens then worries many, including investors.
Endurance in demand
Equity investments should be used by private investors as a long-term investment instrument. A long-term strategy can compensate for market fluctuations. "Stocks should be an important part of the investment portfolio. As a small investor, you can increase your income in the long term by adding stocks to your mix," says Boschan. "A long-term investment approach enables you to be well-prepared for a turbulent journey marked by inflation, trade disputes and uncertainties".
The stock market taboo word of the year is determined by the Vienna Stock Exchange on the basis of the Austrian word of the year. This word has been chosen on a yearly basis since 1999 by the Austrian German Research Centre of the University of Graz, in cooperation with the Austrian Press Agency. In 2017 "negative interest rates" was selected by the community as the stock market taboo word of the year.