The Chartered Institute for Securities & Investment (CISI) are pleased to announce the appointment of Paul Groden Chartered FCSI as President of CISI's Jersey branch.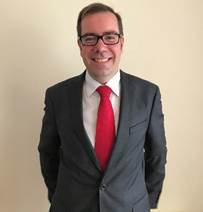 Paul (above) has almost twenty years of experience in financial services, in fields ranging from asset-backed securitisation to structured products. He is currently leading the Agile transformation of Standard Bank's international business.
Paul is also a longstanding finance tutor, was an adjunct lecturer on the Jersey International Business School degree programme for six years and today is a freelance tutor in Fund Administration.
He is a published history author and his volunteering for the Institute includes featuring as a regular contributor to CISI's Professional Refresher learning resources.
Paul follows his predecessor, Niall Husbands MCSI, into the role.
Regarding his appointment, Paul said "It is a great honour to be appointed to this role. Jersey is one of the largest and most active branches of CISI and we are keen to develop our activities in 2022 and beyond.
"Thanks are due to Niall Husbands for his leadership through the challenging days of the pandemic. I'm delighted that his presidency culminated in the long-anticipated return of the Jersey annual dinner, and we appreciate the effort that Zena Whiteley and the Committee put into making that evening a great success.
"Our key focus for the future is supporting financial education and inclusion in Jersey. We want to build on the established success of our Jersey Insight into Finance days and extend our impact into more schools, empowering as many students as we can with the critical financial skills to help them in their lives and careers. We're also committed to growing our membership base in Jersey and encouraging a new generation of financial professionals to join our flourishing branch"
Kevin Moore, Chartered FCSI, CISI Global Business Development Director said: "We are delighted to welcome Paul as the new President and look forward to supporting both him and the Jersey branch committee. We also thank Niall for his commitment and leadership over what has been a very challenging period."