March 8 is designated as International Women's Day by the United Nations. Every year, exchanges around the globe hold a "Ring the Bell for Gender Equality" ceremony to show support for women's active participation in society.

This year, Japan Exchange Group, Inc. and Tokyo Stock Exchange, Inc. again held a bell-ringing ceremony in partnership with organizers the UN Global Compact, UN Women, the Sustainable Stock Exchanges Initiative, the International Finance Corporation, the World Federation of Exchanges, and Women in ETFs.

Due to restrictions caused by the ongoing Covid-19 pandemic, this year's ceremony was held behind closed doors with the fewest possible participants. The bell-ringing ceremony was carried out by JPX Director & Representative Executive Officer and Group CEO Kiyota Akira, JPX Director Christina Ahmadjian, and JPX Director Kohda Main. Special guest the Minister in charge of Women's Empowerment, Marukawa Tamayo, contributed via a video message. Organizers the UN Global Compact, UN Women, Women in ETFs and the IFC also contributed messages of support.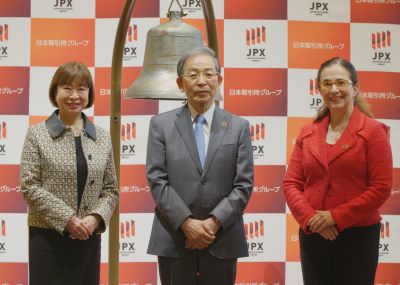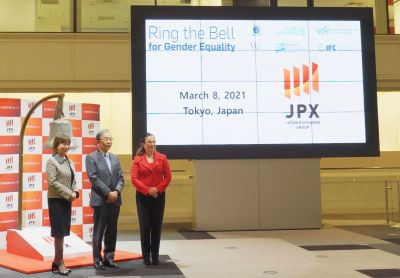 During the ceremony, JPX CEO Kiyota Akira talked about the importance of private sector action in promoting gender equality and introduced some of JPX's activities toward that goal, while outside director Christina Ahmadjian introduced the ways that JPX is encouraging female participation within the company and stressed the need to make sure that women can take leading roles in societal change after Covid-19. Minister Marukawa Tamayo, meanwhile, spoke about how lagging behind other developed countries on gender equality will affect Japan's economic growth and its ability to attract international talent, and how the government is working to improve the situation through the Fifth Basic Plan for Gender Equality. She called on companies to incorporate ESG, including gender equality, into their management, and on investors to actively consider companies' performance on gender equality in their investment decisions.

A short summary video of the event can be viewed from the below link:
Ring the Bell Ceremony 2021 Short Version

To watch the full ceremony and video messages, please see the Japanese event page below.