This year marks the 30th anniversary of the launch of stock index options in Japan.(*1)
Over the past 30 years, as well as providing a diverse range of investment opportunities along with futures, options have provided an efficient risk avoidance tool for investors as a product with greater suitability for hedging.
Osaka Exchange will continue to contribute to the development of Japan's market through further expansion of our derivatives offering.
Comment from Mr. Hiromi Yamaji, President and CEO of Osaka Exchange, Inc.:
I am delighted to be celebrating 30 years since our options market was launched.
Over the past 30 years, we have endeavored to expand our range of options products and services , but I would like to express my deep thanks for the gifts of co-operation and support that we have received from all investors and other related parties, which have helped us to reach this milestone today.
Options trading has answered the needs of investors with diverse motives and strategies, provided a hedging tool against market uncertainty, and contributed to capital efficiency improvements in wider society by levelling and dispersing risk. More recently, we have seen its role widen: for example, there is an index calculated based on volatility in the options market which is now being used as an indicator for the market as a whole.
We at OSE will continue in our aim to be your exchange of choice, by endeavoring to conduct reliable market operations and continuing to provide the very best services in line with the changing times and investors' needs.
Nikkei 225 Options launched on June 12, 1989; TOPIX Options on October 20.

Options on 10-year JGB Futures launched on May 11, 1990; Equity Options (now Securities Options) on July 18, 1997; the evening session (now night session) for stock index futures/options on September 18, 2007; Weekly Options on May 25, 2015; Flexible Options on June 25, 2018.
Trading volume of JPX options contracts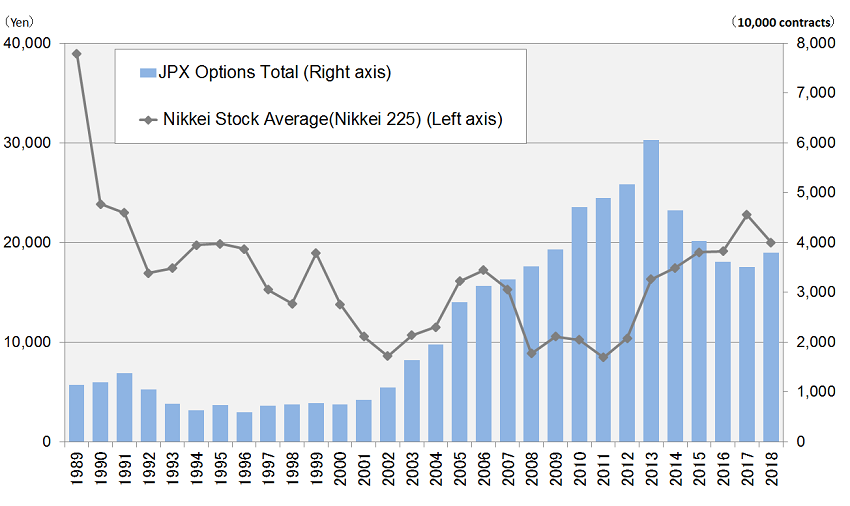 (note)
・JPX Options Total is the total of stock index options, options on JGB futures, and securities options.
Launch ceremony for Nikkei 225 options (June 12, 1989)