Early-stage funding rounds (comprising Seed and Series A funding rounds) dominated the venture capital (VC) funding landscape during the fourth quarter (Q4) of 2020 in the Asia-Pacific (APAC) region, according to GlobalData, a leading data and analytics company.
The number of deals with disclosed funding rounds increased by 3.6% from 361 in October to 374 in November before decreasing by 4.5% to 357 deals in December. Despite the fluctuating trend, the share of early-stage funding rounds remained above 60% during all the three months in Q4 2020. In total, 260 Seed and 453 Series A funding rounds were announced during Q4, which collectively accounted for 65.3% of the total deal volume.
Aurojyoti Bose, Lead Analyst at GlobalData, says: "The trend of early-stage funding dominating the APAC deals landscape seems to continue even in Q4 2020 with VC investors remaining extra cautious in placing big bets during the pandemic time. The new strain of COVID-19 driving a second wave of infections is also dampening the investor sentiments."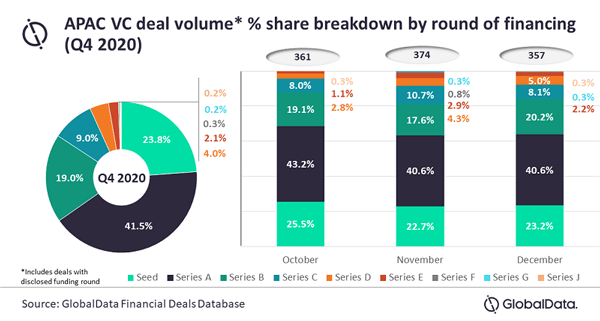 Other funding rounds including growth/expansion/late stage funding rounds (comprising Series B, Series C, Series D, Series E, Series F, Series G, Series H, and Series J funding rounds) collectively accounted for just a little more than one-third of the total deal volume.
While most of the funding rounds' share as a proportion of total deal volume kept fluctuating during the three months of Q4, the share of Series D funding rounds increased from 2.8% in October to 4.3% in November and reached 5% in December.