Amidst a growing number of companies pouring millions into digital transformation for business resilience, primarily against the backdrop of the COVID-19 crisis, low-code/no-code (LCNC) platforms are gaining momentum to cut down lengthy software development cycles to create new applications that meet immediate business needs. This has resulted in an year-on-year fivefold rise in the venture capital (VC) funding into LCNC platforms in 2021, according to GlobalData, a leading data, and analytics company.
Kiran Raj, Principal Disruptive Tech Analyst at GlobalData, comments: "VCs seemingly consider LCNC technologies as part of their core investment strategy backed by the 'software is eating the world' phenomenon now more than ever while most companies are still challenged to quickly develop software due to the lack of skilled developers. LCNC vendors claim to address this gap, notably in the enterprise race to digital transformation, by enabling non-IT professionals to develop new applications remarkably fast."
GlobalData's FutureTech Series report, 'Codeless Tomorrow: Can Low-Code/No-Code Platforms Revolutionize Application Development in Digital Age?', reveals the VC funding trends in LCNC platforms over the past four years.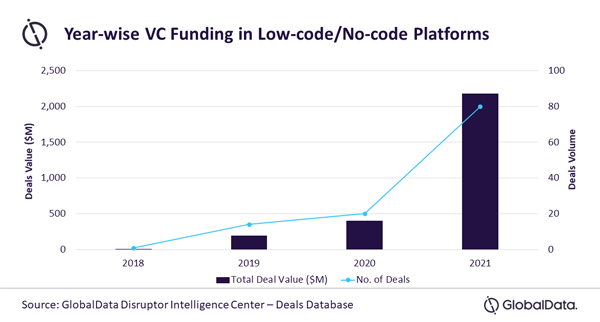 Raj continues: "The focus of VC investors has been on funding high-value LCNC startups that offer enterprise-grade applications to enhance customer journeys, streamline workflows, modernize legacy applications, and support data visualization for increased business productivity. Over the last four years, digital workflow automation is the most targeted area by VC investors, followed by simpler spreadsheets representation and fast and secure transactional development."
Workflow Automation
Boston-based startup OutSystems offers a low-code platform to build web and mobile applications such as employee portals, workflows, and operational dashboards to streamline and automate internal business processes across an organization. In February 2021, OutSystems has raised $150m in Series F funding from Abdiel Capital Advisors and Tiger Global Management LLC. Some of its key clients include Mazda, Santander, and Humana.
Spreadsheets
San Fransisco-based startup Airtable provides a no-code platform that uses a spreadsheet-centric database to build collaborative applications for enterprises to automate repetitive tasks and minimize errors. In December 2021, Airtable has raised $735m in Series F funding led by XN taking its total funding to nearly $1.4bn. Its key investors include Franklin Templeton, Salesforce Ventures, and Michael Dell's MSD Capital, while major clients include Netflix and Shopify.
Transactional
London-based startup Genesis has launched an LCNC application platform that accelerates the digital transformation of financial service companies by primarily tracking and managing real-time risk and high-frequency trade. In March 2021, Genesis has secured $45m in Series B funding led by Accel, GV, Salesforces, and existing investor Citi. Its major customers include Citi, ING, London Clearing House, and XP Investments.
Raj concludes: "As businesses seek extremely efficient working models, digital transformation will become crucial to business survival creating more demand for LCNC platforms. In future, investors will channelize more investments in LCNC platforms with emerging concepts such as micro-SaaS-enabled services, codeless automation, pro-integrated low-code, SAP-Integrated LCNC, and integration platform as a service (iPaaS), among others."