The Chartered Institute for Securities & Investment (CISI) and the Ghana Investment and Securities Institute (GISI) are delighted to announce the renewal of their partnership.
The renewal means that those looking to receive the approval of the Securities and Exchange Commission (SEC) Ghana for a licenced role, to progress their career in financial services or to increase their level of skill and competence within their current firms, will be able to study for the CISI globally recognised wealth management and capital markets qualifications.
The original agreement between CISI and GISI laid the foundations for this framework which had the GISI formally recognising and adopting CISI Level 3 examinations and membership to qualify Ghanaian individuals under the GISI framework.
Ghanaian candidates who elect to study for the CISI certification will automatically be eligible for student membership of the CISI, and those who achieve full stipulated qualifications will be eligible for Associate level membership. They will be able to sit the CISI exams using Computer Based Testing (CBT) in Accra and study using the accompanying pdf workbooks.
CISI membership incorporates access to the full range of CISI member benefits. These include over 500 videos on the CISI TV channel, over 190 e-learning modules or "Professional Refreshers" to update sector knowledge, 1,300 articles in the exclusive member magazine The Review and opportunities to attend virtual CPD events.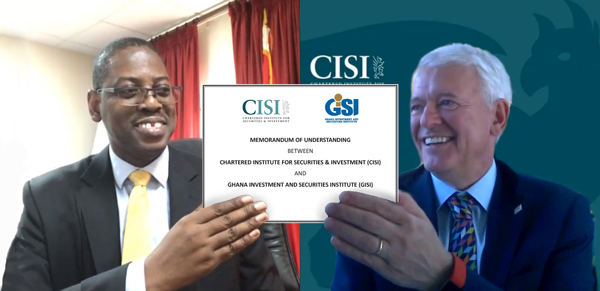 Rev. Daniel Ogbarmey Tetteh, Chairman of GISI (left in photo) said: "We have covered some good grounds during the past year including successfully running Train The Trainer sessions for the faculty of GISI and we are well primed to roll into the stage of an enhanced training programme in securities to the Ghana securities industry. We are excited about the opportunity to renew this partnership with CISI and look forward to the transformation in the securities training regime here in Ghana."
Simon Culhane, Chartered FCSI, CISI CEO (right in photo) said: "It has been a busy 12 months and we were delighted to receive, with GISI's support, formal recognition of our qualifications by the SEC earlier this year. To move the project now on to the next level is exciting, as GISI progresses the next stage of launching our training programme to candidates."
Kevin Moore, Chartered FCSI, CISI Global Business Development Director said: "We are committed to helping the GISI in its excellent programme to enhance the capability and capacity of securities professionals in West Africa and to promote the practice of ethical and professional standards within the securities market."
The CISI's first African office was opened in Kenya in 2018, and CISI also counts on a Country Representative in Nigeria, with support from National Advisory Councils in Kenya, Nigeria, and Mauritius. The global professional membership body has accredited training providers on a pan-African basis. Over 2,000 CISI exams were sat last year in Africa in 21 countries, and CISI counts on nearly 500 members in 15 countries. It recently also renewed its agreement with the African Securities Exchanges Association (ASEA) to help develop a common certification programme across African capital markets.