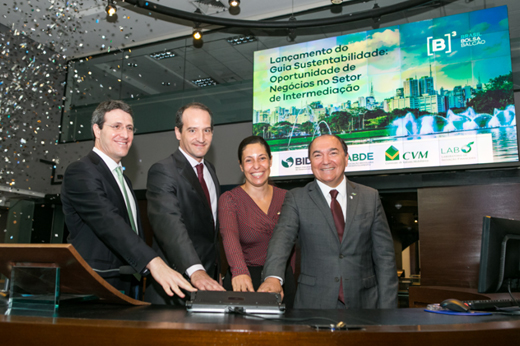 From left to right Gilson Finkelsztain (B3), Marcelo Barbosa (CVM), Maria Netto, (BID) e Milton Santos (ABDE)
B3 launches the guide Sustainability: Business Opportunity in the Intermediation Industry with the support of the Laboratory of Financial Innovation (CVM, IDB, ABDE). The publication is intended to stimulate reflection and the adoption of best practices in sustainability, as well as, contribute to integrate ESG-related issues into the organizational structure and into business processes and controls in the intermediation sector.
The first of its kind, the guide was launched during the 2017 World Investor Week promoted by the International Organization of Securities Commissions (IOSCO). The main focus of the document is to help in the dissemination of the BACEN Resolution 4,327/2014, which establishes guidelines for the implementation of a Social and Environmental Responsibility Policy by Brazilian financial institutions under the supervision of the Central Bank of Brazil (BACEN),create an experience sharing environment and forum, and present new business opportunities.
In addition, the guide includes a timeline containing the evolution of sustainability in the corporate environment and is divided into two key sections: opportunities for new business development and business structuring as per BACEN Resolution 4,327.
The guide Sustainability: Business Opportunity in the Intermediation Industry is published in both Portuguese and English. Find it here.
Click here for B3's program in the World Investor Week.