10

th

transfer on Oslo Børs so far this year

Brings the number of companies on the main market up to 212

Market capitalisation of approximately NOK 1.7 billion
Oslo Børs, part of the Euronext Group, today congratulates Agilyx (ticker: AGLX) on its transfer from Euronext Growth Oslo to the main market. This is the tenth transfer so far this year, and with this Agilyx there are 212 companies listed on the main market.
Agilyx is dedicated to help solve the problem of plastic waste with plastic recycling technology. It offers a solution for diverting plastic waste from landfills and converting it into new, valuable products. The company was the first to establish a commercial scale closed loop plastic-to-plastic chemical recycling facility and holds over 17 patents.
At opening, the share price of Agilyx was set at NOK 22.30 per share, based on the price on Euronext Growth Oslo at closing on 15 September. This corresponds to a market capitalisation of the company of approximately NOK 1.7 billion.
Tim Stedman, CEO of Agilyx, said: "This is truly a big day for Agilyx and we are incredibly proud to be listed on the main market of Oslo Børs. As we are gaining momentum, it is increasingly important that the Agilyx share is attractive to a broader range of investors, and we know that the listing on Oslo Børs will contribute to this. We are grateful for the trust that our investors have placed in us and look forward to continuing on our mission of using technology for good to solve the global problem of plastic waste."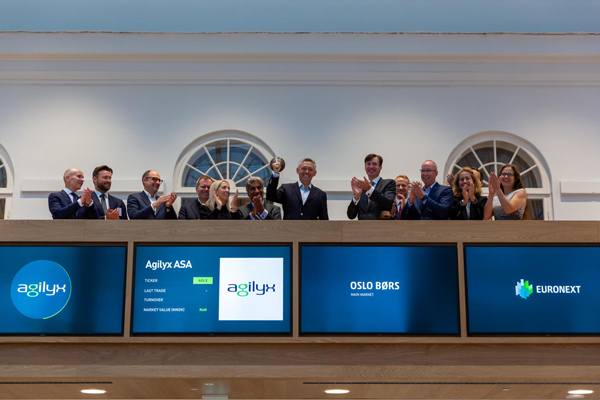 Caption: Tim Stedman, CEO of Agilyx, rang the bell this morning together with the team to celebrate the transfer of the company to Oslo Børs main market. They were welcomed by Øivind Amundsen, CEO Oslo Børs. (Photo: Christopher Fey/NTB)
About Agilyx
Agilyx is a technology company that enables customers to recycle difficult-to-recycle post-use plastics to high value, virgin-equivalent products. With a focus on diversion and conversion of plastic waste, Agilyx is uniquely positioned with a molecular recycling technology offering and an integrated feedstock solution by way of Cyclyx, an innovative feedstock management consortium of partners that drives up global plastic recycling rates by chemically fingerprinting plastic waste and matching it to appropriate recycling processes. Agilyx was the first to establish a commercial scale closed loop plastic-to-plastic chemical recycling facility and holds over 17 patents. Agilyx conversion technology utilises pyrolysis without a catalyst and can convert mixed waste plastic to naphtha and fuels or depolymerise specific plastics such as polystyrene and PMMA (acrylic) back into virgin-quality products. Learn more at www.agilyx.com