Trading remained active throughout March with Bitcoin reaching a new all-time high of $61,749 on the 13th. Spot volumes rose 9% to reach $3bn and derivatives volumes dropped 5% to $2.74tn.
While open interest for CME's BTC futures have decreased 15%, their ETH futures product has grown more popular, with average open interest up 66% from February.
Please see the key highlights for the March Exchange Review below. For a more comprehensive overview, download the full report here.
Spot Volumes Rose by 9% in March to Reach $3bn
Top-Tier volumes increased 5.9% to $2.5tn while Lower-Tier volumes increased 29% to $493bn. Top-Tier exchanges now represent 83.5% of total volume (vs 86.1% in February).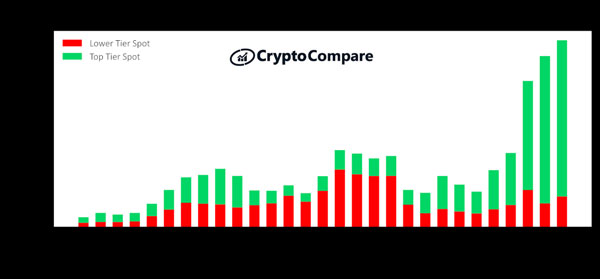 CME BTC Open Interest Dipped 15% While ETH Open Interest Grew 66%
CME's average open interest figures for BTC futures decreased by 15% to $2.1bn in March. Meanwhile, ETH open interest averaged $102mn (up 66.2%).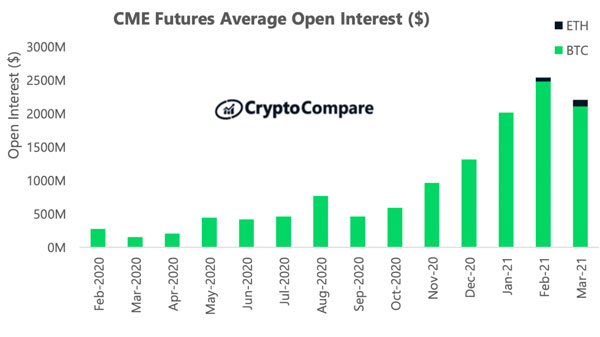 In terms of total USD trading volume, CME's newly launched ETH futures reached $1.5bn in March (up 51.3% since February). Meanwhile, CME's BTC futures volumes decreased by 0.5% to $59.4bn. On aggregate (ETH + BTC futures), volumes reached $60.9bn (up 0.3%).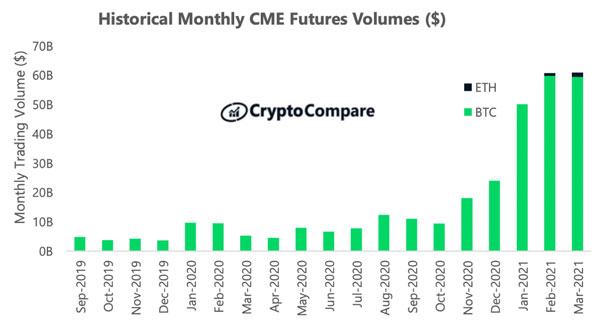 Derivatives Volumes Dropped 5% - Aggregate Open Interest Dropped 14.1%
Derivatives volumes decreased by 5.3% in March to $2.74tn. The derivatives market now represents 47.8% of the total crypto market (vs 51.3% in February).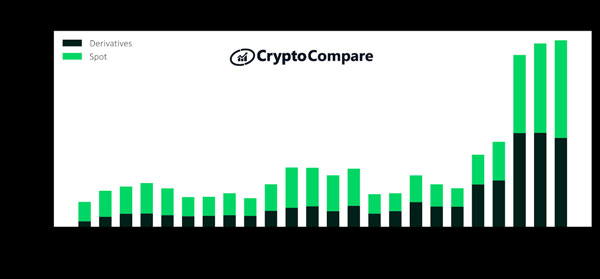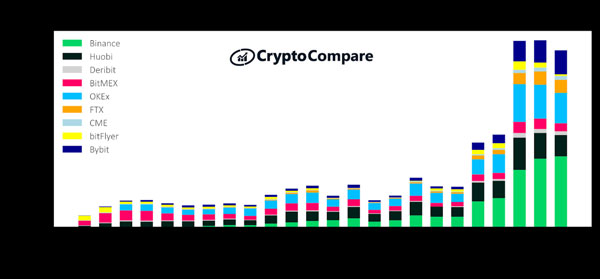 Across all futures derivatives products, average open interest for March was $25.9bn (down 14.1% since February). Binance had the highest open interest on average at $7.5bn (up 1.5% since February). This was followed by Huobi ($4.0bn, down 22.3%) and OKEx ($3.9bn, down 38.3%).



March Exchange News
BitMEX
Introducing the TRXUSDT and EOSUSDT Quanto Perpetual Contracts

Kraken
Kraken Commits Funding to Ethereum 2.0 Transition with New Gitcoin Giving

Uniswap
Introducing Uniswap V3

Deribit
Deribit Launches Volatility Index

Read more news in CryptoCompare's Exchange Review.