World Exchanges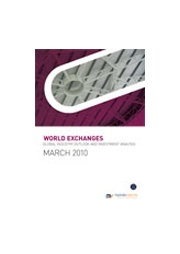 In this new and exciting sector, authoritative information and comment are essential. World Exchanges provides reliable, impartial information every quarter covering:
Industry trends
Industry drivers, such as technology, regulation and globalisation
The competitive landscape, including alternative trading systems, ECNs and internalisation
The investment case: what to look out for, and what to avoid
In addition it provides detailed and up-to-date information on all the leading listed and demutualised exchanges, including:
ASX Limited
BM&FBOVESPA
Bolsas y Mercados Españoles (BME)Group
CME Group
Deutsche Börse
Dubai Financial Market
Hellenic Exchanges
Hong Kong Exchanges and Clearing
Intercontinental Exchange
International Securities Exchange
JSE
London Stock Exchange
Nasdaq OMX Group
New Zealand Exchange
NYSE Euronext
NYMEX
Philippine Stock Exchange
Singapore Exchange
Swiss Financial Markets Services (SFMS)
Tokyo Stock Exchange
TMX Group
If you want to know what's happening in the exchanges sector, you'll need World Exchanges.
Purchase Options
All prices exclude VAT.