Exchange Handbook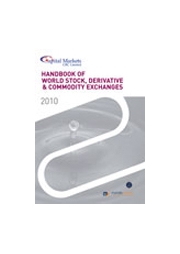 The 1200 page Handbook of World Stock, Derivatives and Commodity Exchanges provides trading, settlement and organisational information about 250 exchanges in over 100 countries and regions.
No other publication provides a one-stop information source on equities, futures and options to this level of detail.
No other directory contains this many countries or exchanges.
The handbook is available in hardcopy and online. The online version is regularly updated.
Purchase Options
All prices exclude VAT.