Easy, low-cost access to the stock exchange

New: startup300, EYEMAXX Real Estate, VST Building Technologies and Wolftank-Adisa Holding

23 companies tradable in the basic segment "direct market"
(Vienna) The Vienna Stock Exchange is starting today with its new market segmentation: "direct market plus" and "direct market" that replace the "mid market" and "other securities". Four companies are newly listed on the segment direct market plus: startup300 AG, a start-up ecosystem and investor network; EYEMAXX Real Estate AG, a real estate developer and portfolio owner focussed on the DACH region; VST Building Technologies AG, a provider of building construction formwork technology; and Wolftank-Adisa Holding AG, a group of companies in the tank facilities sector. Four companies previously listed on the mid market, Athos Immobilien AG, DWH Deutsche Werte Holding AG, Hutter & Schrantz Stahlbau AG and Sanochemia Pharmazeutika AG, are also joining direct market plus. The basic segment "direct market" will include 23 stocks in trading at market launch.
Christoph Boschan, CEO of the Vienna Stock Exchange, and the companies jointly ring the opening bell: "Four new companies, that speaks for itself. Our new segment has been well-received by a colourful mix of companies from various sectors and includes traditional SMEs as well as up-and-coming young companies. As an infrastructure provider, one of our central tasks is to create new opportunities and ways to enter the capital market. Our segment offers the ideal starting point for companies looking to advance their development through the capital market. On the trading side, the new segment addresses knowledgeable and experienced investors who focus on SMEs and growth companies, and know how to assess opportunities and risks."
Two forms of trading are available for both new segments: continuous trading between 9:00 a.m. and 5:30 p.m. and a single intraday auction with price determination around 1:30 p.m. As in the EU regulated market, a prerequisite for inclusion in continuous trading is the activity of a market maker who ensures price determination.
An amendment to the Austrian Stock Corporation Act (Aktiengesetz) enacted at the beginning of the year, enables the Vienna Stock Exchange to offer this new, simple and cost-effective service to small and medium-sized companies, which are the backbone of the Austrian economy. The "direct market" is the entry-level market with low requirements. For the segment "direct market plus", companies must have a minimum period of existence of one year, publish annual financial statements and a half-year interim report, maintain a financial calendar and use the services of a capital market coach. In return for the greater transparency, companies enjoy a plus in services and attention. The direct network, which was set up by the Vienna Stock Exchange, offers companies around 60 contacts that provide support for financing and public offerings.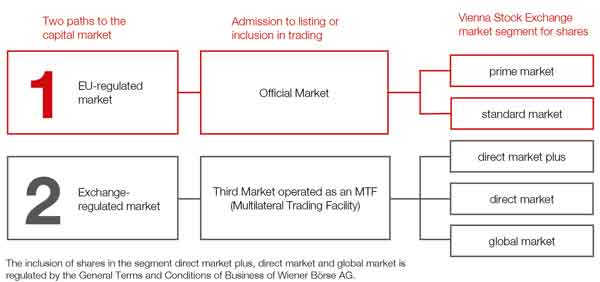 Infographic: market structure direct market & direct market plus (jpg-file 260 KB)
Photo gallery (image download available from 13:00)
List of all companies (pdf-file 160 KB)
Details about listing in direct market plus